About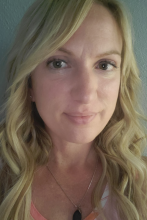 Michelle started practicing massage after completing basic massage courses from Ivy Tech State College of Indiana in 2000. She started her part-time business travelling to friends homes while attending Indiana State University. In 2002 after discovering massage was her passion, she decided to go back to Ivy Tech to finish an Associate of Applied Science in Medical Asssisting with a Massage Therapy Specialization. She completed the degree program and graduated in 2004. After starting a family, she decided online school would be best to complete an undergraduate degree, and graduated with a Bachelor of Arts in Psychology through Ashford University in 2007. She recently finished a Master of Arts in Professional Counseling through Lindenwood University. She is currently exploring career options in mental health as well as studying additional training in DBT and trauma-informed therapy, but will continue to offer massage therapy due to it's many benefits.
Her specialties include deep tissue, neuromuscular therapy, Swedish, ashiatsu, hot stone, aromatherapy, and reflexology. She combines techniques and customizes each session according to client needs and preferences.
In her personal life she enjoys spending time with friends and family, outdoor activities, concerts, and travelling.
Degrees
M.A. in Professional Counseling, Lindenwood University, 2021
B.A. in Psychology, Ashford University, 2007
A.A.S. in Medical Assisting, Ivy Tech State College of Indiana, 2004
Licensing, Certifications, and Memberships
Illinois Licensed Professional Counselor (LPC) #178018189, 2022
Missouri Licensed Massage Therapist (LMT) #2021039571, 2021
CPR/BLS, American Heart Association Provider--Katie Thornton, EMT, LMT, 2019 (renewed)
Certified Deepfeet Instructor, Ashiatsu Institute, LLC/Deepfeet, 2019-2021
American Counseling Association (ACA), 2019
Advanced Certification in Ashiatsu DeepFeet Bar Therapy®, 2012
Certified Neuromuscular Therapist, The Body Therapy Center School of Massage & Southwestern Illinois College (SWIC), 2011
Illinois Licensed Massage Therapist (LMT) #227006516, 2005
American Massage Therapy Association (AMTA), 2002
Continuing Education
Self-Evaluation for an Ethical Practice, AMTA, 2021
Deepfeet Sarga Silks, Nancy DeLong, 2019
Ashi-Thai, Pilar Hook & Natalie Petersen, Deepfeet Bar Therapy, 2018
Usui Reiki Level 2, Samantha Grodecki, Reiki Master, 2018
Usui Reiki Level 1, Samantha Grodecki, Reiki Master, 2018
Plantar Fascitis, The Body Therapy Center/Holly Pinto, LMT, NCTMB, 2018
Pharmacy in Your Kitchen, Angelo Pezzote, PharmD, MA, 2018
Massage Therapy for Depressed Clients, AMTA, 2018
Hot Towel Facial Massage, Castine Consulting, LLC, 2018
Ethics and Smart Business Policies, Castine Consulting, 2018
Trigger Point Massage Therapy, Castine Consulting, LLC, 2016
Avoiding Burnout for Massage Therapists, AMTA, 2016
Receptor Techniques for Painful Necks, AMTA, 2016
Carpal Tunnel Syndrome, A Proactive, Non-Surgical Approach, AMTA, 2016
Advanced Massage Techniques (carpal tunnel, whiplash, et.al), Instructor: Tammy Alumbaugh, LMT, NCTMB, 2015
Massage and Medications—When is Therapy Dangerous?, AMTA, 2013
Deep Feet Two--Advanced Ashiatsu, Ashiatsu Deepfeet Bar Therapy, 2012
Anterior & Side-Lying Ashiatsu, Ashiatsu Deepfeet Bar Therapy, 2012
Barefoot Basics, Ashiatsu Deepfeet Bar Therapy, 2012
The Ingham Method of Reflexology—Phase 2, International Institute of Reflexology, 2012
Clinical Aromatherapy—Level 1, Aroma Apothecary Healing Arts Academy, 2012
The Ingham Method of Reflexology—Phase 1, International Institute of Reflexology, 2011
NeuroMuscular Therapy (NMT) for the Upper Extremity, The Body Therapy Center and School of Massage, 2011
NeuroMuscular Therapy (NMT) for the Lower Extremity, The Body Therapy Center and School of Massage, 2011
NeuroMuscular Therapy (NMT) for the Cervical Spine and Cranium, The Body Therapy Center and School of Massage, 2011
NeuroMuscular Therapy (NMT) for the Torso and Pelvis, The Body Therapy Center and School of Massage, 2011
Salt Scrubs and Mud Wraps Blue Moon Body Treatments, Castine Consulting, LLC, 2011
Neuromuscular Therapy for the Introduction to NMT, The Body Therapy Center and School of Massage, 2010
A Holistic Model for Ethical Practice, AMTA, 2010
Creating Healthy Boundaries, AMTA, 2010
Cancer and Massage Therapy Parts 1 & 2, AMTA, 2010
Human Anatomy & Physiology II, Southwestern Illinois College, 2009 (refreshment)
Human Anatomy & Physiology I, Southwestern Illinois College, 2009 (refreshment)
Fundamentals of Nutrition, Southwestern Illinois College, 2009
Introductory Chemistry, Southwestern Illinois College, 2009
Sports Massage I, The Healing Arts Center, 2008
Greenstone Massage, The Healing Arts Center, 2008
CPR & Universal Precautions, The Healing Arts Center, 2008
From the Client's Perspective: Marketing, Policies, and Ethics of Your Practice, AMTA, 2008
An Evidenced-Based Guide to Treatment of Fibromyalgia for Massage Therapists, AMTA, 2007